Happy New Year
To all at High Moor
Gídays guys!!
Well how fast has the year gone, we have nearly been in Oz 1 year now, and have enjoyed every minute.
Christmas wasnít the usual hustle and bustle like back home in the UK, its much more relaxed here, which Paul enjoyed because he hates Christmas, but I missed it really. Then came New Years Eve which was exactly the same. Normally for us it would be a glitzy night out in town, but not here. I think the weather had a lot to do with it. I couldnít get the snowman to stand up properly, he kept wilting in the heat. Itís been about 27-40 over the last few weeks which is lovely. Not when youíre going out to work though.
My parents arrived on New Years Eve, they seem to be enjoying them selves.
Well, we moved into our house about 3 months ago, we have done lots of decorating as it had a very weird colour scheme. Itís a 3 bedroom bungalow, 2 bathrooms, we have quite a large back garden, with a pool, Paul has a huge shed at the back of the garden. We have spent most weekends on the house but now my folks are here, its time for a rest. So we are off down south in a few days to tour the South West of WA. The weekends that we havenít spent on the house have been fantastic. We are up early 5-6am, out fishing or we have a 2 seater kayak, we take that to the beach down the road, there is a boat harbour there, so we have a paddle around the boat, to see which one we can get, or we go to the Swan River near the city for a paddle. There we paddle with the dolphins, which is fantastic. There just at the side of you, they are not bothered that we are there. Itís fantastic to see. Itís alive out here with wildlife. Scary!!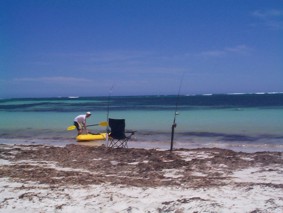 Well thatís all for now,
Good to hear from you Gary and Gerry and will email you with a few more updates and pics.
And hi to Derek and Jim and Paul and Viv and everyone else, sorry if we missed anyone.
Keep up the good work, we will keep updated from the website for more pics of rallies etc
Good bye from Down under
Jo & Paul
xx