CHILDREN IN NEED 2003 - CHARITY CAR PUSH.
(aka: Le Jog?)
By Neil Moreton
The week leading up to the High Moor Charity Car Push began well, with the confirmation arriving of the attendance of two Lord Mayors (Oldham & Bury), at our static display, along with the information from the Police and Local Council confirming everything was in order, and even going on to wish High Moor's efforts every success. Even the local media had started expressing an interest in our venture via a couple of telephone enquiries I had received.
Mid week brought about numerous trips back and forth along the route we were to follow, checking for any possible "complications" that may have come to light, such as roadwork's for example that would need allowing for in terms of the time schedule that we needed to stick too. This done, Oldham Town Centre was the next port of call in aid of some "Public Relations" work and where possible, asking local shops etc to display our Promo Posters alerting shoppers to our forthcoming efforts on the Friday. After spending 4 hours wandering in and out of Oldham shops and having got rid of the 30 posters I had, a quick "recce" of our allotted display site and potential parking arrangements for the support vehicle, meant Oldham was "taken care of".
Thursday started badly, a visit to collect the Stage Furniture to be used in the display, revealed that along with other property, was now missing?, the garage where it was stored had been "visited" by thieves and consequently most of the equipment to be used was gone - needless to say, the next 4-5 hours were spent in the company of our "local law enforcement" giving statements and descriptions of the missing items, a difficult task when the officers attending, looked at me like I was from another planet as I tried to describe what a stage control board looked like……neither had a clue what I meant, having never been to a Rally before……WEIRDO'S.
As night time fell and the police left, it was back to HQ for a re-think and a last look at the mountain of paperwork that Ian Smith was bringing over for me to "peruse" just in case, Thanks Ian, along with news of a similar effort to our own by a rival car club which could potentially "steal" the limelight from our venture……….mmmmm, some investigation required I thought. As it turned out, it was Knutsford and District who were planning to push a Subaru from Altrincham to the BBC, only they had 30 people involved, we were going to have our work cut out for us.
The early evening saw a bout of frantic last minute activity, double checking permits, preparing the collection buckets, producing letters of authority for the "Collectors" and countless other related tasks, all so as to be sure that no "Technical" difficulties or "Red Tape" could get in the way of the following days efforts. Once that was completed, a trip over to Marple, found the two Matts (Dickson and Stirling), along with Danni and Chris already in the process of "prepping" the little 106 that was to be used the day after, The "prepping" predominately being the changing of wheels and Tyres, a thorough clean & polish, then followed by what could only be described as a "frenzy" of sticker application, lead, it has to be pointed out by Mr Stirling who had brought along sponsor graphics of shall we just say "substantial-
proportions". An hour or so later, the little "Pug" looked to all intents and purposes just like a "pukka" little rally car, ready for its adventure.
As November 21st dawned it appeared that Mother Nature was going to be kind by way of granting us a bright, dry and typically "chilly" November morning - a good omen in light of the previous two days downpours and the set back in our plans.
We all met up at the Pennine Lounge car park around 9.15am and discussed the logistics of the the day ahead whilst applying more graphics to the vehicles involved, and running through some key points relevant to the collection "protocol".
9.45am saw High Moor MC arriving at the Town Centre site in procession, not dissimilar to a 20 legged orange caterpillar it has be said (or was that just my tired eyes!), ten minutes later the display was up and we were off and running, with the collection buckets distributed, our first donation came from Mr Paul Wotton, the very chap that has given our efforts the "green light", courtesy of his position with Oldham Council's EV Services dept. Nice One Paul!.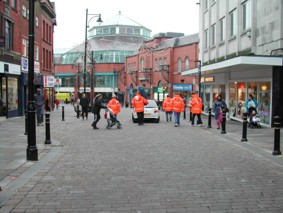 Refreshments, by way of the newly opened SUBWAY Sandwich Bar and in particular, Paul the owner were regularly "relayed" to us in the form of Hot Tea, Coffee and Soup - Marvellous, and much appreciated too in the light of the cold, especially as the prospect of a hot sandwich at lunchtime seemed to "spur" on the troops in their bucket shaking techniques??
Shortly after 11.15am the Lord Mayor of Oldham - Councillor Valerie Sedgwick arrived along with her driver, to wish the club every success in its efforts and offer congratulations on helping to promote not only ourselves, but Oldham and its inhabitants also, in a positive manner, - after posing for some PR photos and chatting with various club members about our activities, she left to continue with her other official duties of the day, but not, it has to be said, before popping a few coins in a bucket for our collection.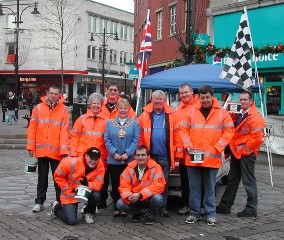 As lunchtime approached rapidly, and the most important task of the day was being carried out, aka - the butty list, the closest thing to a "complaint" came to light from a member of the public. It was pointed out to us that we had set up our display slap bang on top of a Town Centre feature, namely a "clock" in the form of a ring of concentric lights sunk into the floor displaying the time via the colour and number of lights illuminated at any given point. When we arrived to set up the display in the morning ironically, we had joked about the possibility of somebody complaining that we were on the clock face, but due to the location being strictly designated to our display by the Council themselves, we were not expecting problems, famous last words?
High Moor MC consequently dealt with the individual in question by way of "diplomatically" pointing out that a number of the lights were actually out of order and hence suggested the Town Hall maybe as being a more accurate timepiece??? - this said, the gentleman left, grumbling as he went……shame.
Lunch arrived and people took turns to either, eat their sandwich or shake a bucket respectively, so as to "keep up the good work" whilst getting much needed replenishment at the same time.It was during this time that the background noise of Oldham Shoppers was disturbed by a horn sounding and a strange metallic clip-clop coming up the High Street, heading in our general direction. The crowd parted, to reveal our friends from Days of Funder MC, namely John Francis and Captain Coco making their usual low-key entrance, John wearing his medieval suit of armour and Capt Coco in the infamous 2CV (both London Marathon costumes) in an attempt to help with High Moors fundraising activities, whilst gaining some valuable insight into any alterations required prior to an attempt at doing "Lands End" to "John-o- Groats" in the suit of armour later next year- needless to say, lots of laughter and numerous "one liners" were heard from both ourselves and members of the general public alike, which added to an already "light hearted" day so far. With the 2CV "safely" parked alongside our display and introductions over, it was back to the "shakin" of them buckets!.
The last hour before setting off on the push was perhaps the most entertaining, firstly, recent new club members, Chris Pedley Senior and Junior arrived as promised to help with the car pushing - subsequently everyone present was introduced accordingly and various discussions ensued regarding our new friends exploits on Mull recently. Moments later the local press in the form of a photographer from the Advertiser turned up and pictures were taken for an article to be published - EXCELLENT!
Shortly after that, our 2nd Lord Mayor of the day arrived, Councillor Wilf Davison of Bury, a jolly chap, that not only posed for the PR photos but even allowed himself to be strapped into the "2CV" and have a quick "hot lap" of the Oldham Town Centre - much to the amusement of everyone in the vicinity, some of which then feeling "obliged" to make a donation in light of the "Ali G in a 2CV", complete with…….
da "Bling Bling" entertainment that was being provided on an otherwise "dull" winters day.
A final flurry of activity just before 2.30pm saw the display broken down and packed up, buckets collected in and a "plan" for where we were to rendezvous with Gerry and the Support Vehicle, the High Moor Car Push set off (a fashionable 10-15 mins late) in earnest, not knowing what lay ahead. We slowly, but steadily, made our way out of the pedestrian zone lead by our "flag bearer" - Gazza, and persued by the 2CV and a Knight in Shining Armour. The departure though Oldham traffic gave us a good insight straight away as to what to expect in terms of hazards on the road - first one being Gazza's early pace at the front of our procession, resulting in some "questionable" red traffic light decisions, but it all adds to the fun! The biggest hazard ahead was the roundabout at the start of the A62 itself, always a fast moving and busy junction. A couple of brave (or foolhardy) members stepped into the highway and physically blocked the road for long enough to move onto the roundabout safely in the end, as being courteous was netting no favourable opportunities for us to progress - safely negotiated, it was off down the A62 passing through numerous traffic light junctions, or not, as the case maybe. It seemed that every set of lights changed to red as we approached, as it turned out though, this allowed us to "mingle" amongst the stationary traffic and collect from passing motorists when offered. Buses getting held up in traffic also allowed John in the armour to "board" and ride to the next stop down, allowing enough time to take a quick collection whilst aboard - brilliant move, though I feel sure that many found the experience quite surreal… not least of all the bus drivers themselves, who must have wondered what fare they could possibly levy on a 200 year old Knight!!!, ie: Student or OAP….You decide?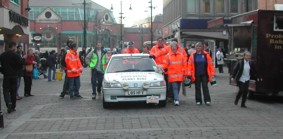 An hour in and good progress found us nearly half way along the route, but lots of red faces and a Knight in "chafing" armour were signs that we needed to ease off a little - a difficult task with Gazza still pacing on! A break of 10 mins and a healthy intake of water saw the troops ready for the off again, this time at a more measured pace and with everybody regrouped together, rather than the ever extending procession we had become just prior, as we got spread out through stopping for the odd donation or helping John in the back of the Support Vehicle for a rest, etc.
On approaching Manchester itself, it became apparent that more vehicles passing us were taking the trouble to sound the horns as they passed and in some cases attempt to throw coins within our reach, later it was established that the local radio was plugging our efforts and progress thanks to regular updates via text and phone messages sent by Jill and Kez en-route.
Darkness was falling rapidly as we entered the Ancoats area just outside of the City Centre and with this in mind, the group was "tightened up" so as to allow quicker lane changing, so to speak, that awaited just around the corner. As expected, and with the time of day especially, traffic was heavy, but the majority of which was slow moving and didn't really present great difficulty in negotiating as we made our way into Piccadilly Gardens and on towards our final goal - spirits were high now, the last leg was under way and the busy activity going on all around was not going to stop us now!.
The approach towards the BBC was interesting due to the need to use the bus lanes which were crammed with rush hour commuters all awaiting their transport home, only difference today being a procession of some sort was causing disruption - that'll be us then!...in reality, nobody was heard to complain once they realised what was going on, even the occasional bus driver gave us a beep and a wave. Our original schedule was to arrive for approx' 6 - 6:30pm in the evening, however due to our pace along the route, we had about 45 mins in hand - comfortably. I elected to go ahead of the now stationary procession and check out the arrangements at the BBC itself. Whilst everybody had a breather and took the opportunity to let friends and family know that we were nearly there!!!
Inside the BBC, I asked a chap behind the desk where we were supposed to head for as we approached the Television centre itself, to which he replied that we were welcome to come in and join the party upstairs, but as far as car parking etc, he didn't know? At this point, a lady appeared from a lift and headed straight over, she knew of our arrival and went on to arrange with the security lodge to allow us access with our vehicles….result!
10 Mins later, and the procession set off on the last 500 yards of the route, around the corner and straight into the "beeb" - made it!. With the vehicles secured and John "dismantled" in the car park, everyone congratulated each other on an excellent effort.
Sadly Chris Senior and Chris Junior had to rush off due to work commitments later in the evening, as did John Francis who by now was being tended with various creams and plasters for his "chafing" injuries.
Thanks and farewells given, the remaining people "shuffled" into the secret world of the BBC in search of "complimentary refreshment" and television stardom???. After being escorted to the hospitality suite and past the "Pudsey" set, we were left to indulge in a glass of wine and the company of other participants in fundraising activities - all very, very nice people.Whilst chaos broke out all around us, it was great fun, and a pity that we were not going to be able to stay all night and soak up the atmosphere. Jim was "dared" to have his face painted like Pudsey, and being a good sport, promptly did so! The end result it has to be said showed little resemblance to the charity's namesake, more an artist's impression - Salvador Dali's perhaps?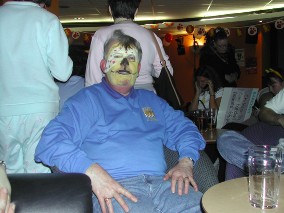 A few "beverages" later and after receiving a few texts from people saying that they kept spotting us in the background on television ( the coats on the bar serving their purpose) we were approached and told we would be getting a "slot" at the next opportunity during the regional round up programming. Quickly, Our coats were on, hair fettled, and eyes rubbed, followed by a frantic description of what to do next from the floor manager, saw us ready for our "debut". It was right about now Jim realised what terrible fate lay ahead, as millions of viewers around the country, children included, were about to watch a 30 second spot with Jim's face as centre of the shot, looking like Pudsey's evil twin! (Darth Pudsey)
And you're on! Too late, we were shuffled tightly together to all get in the shot and a camera stuck right in front of us - 26 seconds later, it was all over, and High Moor could go home, knowing it had achieved all it had set out to do on the day, with that in mind, we made our way out of "wonderland" and back into reality, or at least Manchester City Centre on a Friday night, ironically just as Knutsford and District were arriving with their car push…….tut-tut, better luck next time?. all that remained was to collect in the monies raised because of our successful venture, and look forward to next year?????.
Thanks everybody, and start collecting that sponsor money in so we can announce a Total asap, hopefully at the Club Xmas party on the 22nd of December.
Neil.